Including the super-secret serum she swears keeps her acne clear.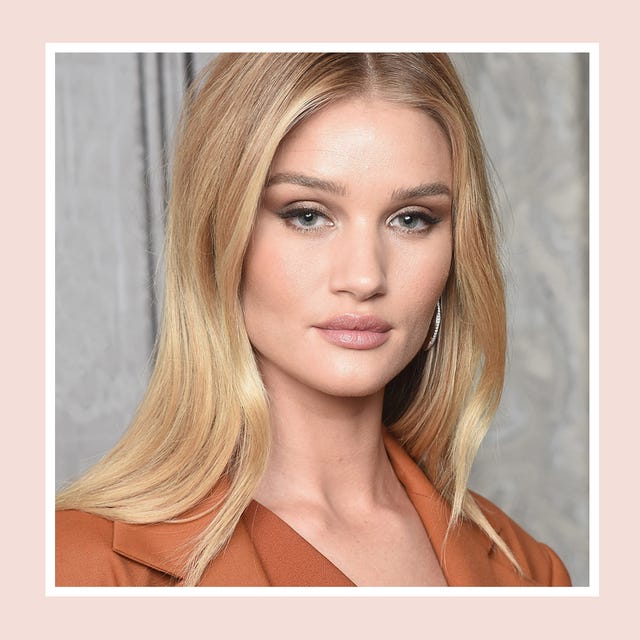 CHRISTINE GIORDANO X GETTY
Rosie Huntington-Whiteley is a model, actress, and mom but there's another title she deserves: Skincare expert. Over the past year, Rosie has shared several videos on her YouTube channel that give a glimpse inside her skincare routine and we've gotta say, the woman has got some impressive beauty knowledge. Not only does she share her impressive ingredient knowledge, but also that she struggles with sensitive, acne-prone skin.
While I've only ever noticed Rosie's skin looking flawless, she says that she started experiencing major congestion along her jawline about six months after giving birth to her son in 2017. "I just felt so insecure about my skin," she says. "People were commenting on it. Anybody who has struggled with acne—whether it's a small breakout or whether it's severe—will know it's something that emotionally can affect you." Rosie starts off the video explaining that she's found that finding products that are non-comedogenic has been key for preventing breakouts. "Comedogenic ingredients are essentially pore-aggravating ingredients," Rosie explains. "Even if a product says it's noncomedogenic or oil-free, it might not actually be that."
"You can really start to see what the ingredients in your skincare and your makeup are doing for you—the pros and the cons."

Rosie Huntington-Whiteley
So, how does she verify if a product is non-comedogenic? Rosie shared that she uses the internet to check every ingredient. You can check your full ingredient list against their list of pore-clogging offenders or you can type in the ingredient in question and it will let you know. "You can really start to see what the ingredients in your skincare and your makeup are doing for you—the pros and the cons." As for the actual acne-friendly products Rosie swears by, keep reading.
She uses adult acne pads.
"I like to use these in the evening after I cleanse, I'll use this all over my face and neck area," Rosie shared about the ZO Skin Health Oil Control Pads Acne Treatment. The treated pads are soaked with a blend of salicylic, mandelic, and glycolic acids to clear out pores and exfoliate away dirt and dead skin cells and Rosie has seen results. "I've seen an evenness in my skin when I wake up in the morning. My skin has an evenness in tone and color."
ZO Oil Control Pads Acne Treatment
Formulated with 2% salicylic acid to clear acne + minimize surface oil. An invigorating acne treatment prevention solution designed to be used with a complementary acne treatment program. The oil control pads remove oil, normalize pore size, help smooth skin's surface and reduce irritation.
Removes dead skin cells
Removes dirt and oil from the pores
Salicylic acid provides acne treatment
Targets oiliness and minimizes the appearance of pores
Cooling agent soothes skin irritation
She swears by these three iS Clinical Serums.
The next three serums Rosie has been a loyal fan of for years. The iS Clinical Super Serum in particular she says "safely brightens the skin and helps anyone with uneven skin tone and helps to reduce fine lines or pigmentation."
"I can't say enough good things about this product," Rosie raves. "I've been using it for about six years now and it's really helped with my skin issues." This serum is all about healing with a mix of antioxidants, vitamin B5, and menthol (hence the name). She likes to use it in the morning with the iS Clinical Hydra-Cool Serum.
The third, and final, iS Clinical serum Rosie applies is the iS Clinical Active Serum that she says she can't live without thanks to how well it combats her congestion. She also says that it's helped to even out her skin tone, smooth, and soften her skin. "I use this two to three times a week, in the evening, before I apply any moisturizer. It's a bit of an investment product but really really has changed my skin over the years and I can't live without it."
She uses a different cleanser in the morning and at night.
"I start every morning with this product," says Rosie about the Zo Gentle Cleanser. She goes on to share that it's "low lather, incredibly gentle, and great for removing the makeup or starting the day." The cleanser also uses salicylic acid so it offers a gentle resurfacing that Rosie said is "gentle enough for hypersensitive skin."
ZO Gentle Cleanser
Gentle cleanser for all skin types designed to remove impurities and leave the skin feeling refreshed, clean and hydrated. The ZO Skin Health Gentle Cleanser (formerly called Foamacleanser) is gentle enough for all skin types but strong enough even to remove makeup and skin impurities. The ZO Skin Health Gentle Cleanser foaming action cleans without stripping the skin and is a favorite for post-procedure and after spa aesthetic treatments such as Chemical Peels, IPLs, PRP Facials and Microneedling.
Helps remove makeup
Deep cleans skin to remove oil and impurities
Helps promote hydration and leaves the skin feeling refreshed
At night, she favors the still-gentle, yet more exfoliating Zo Exfoliating Cleanser to get rid of excess surface oil without leaving her skin feeling stripped and dry.
ZO Exfoliating Cleanser
Gentle exfoliating cleanser for normal to oily skin that targets surface oil leaving the skin feeling clean, but not stripped and dry. 
Rids the skin of dirt and surface oil
Unclogs pores with exfoliation
Calms and soothes irritated skin